I have fond memories of travelling through India some years ago and having fresh, hot masala chai from the street vendors as we walked along.

Watching them expertly pour the hot milk from cup to cup without spilling a drop to froth the milk always mesmerised me. And the flavour of the freshly ground spices and sweet milk was divine!

Of course in India, you mustn't touch the steel cup to your lips (so multiple people can use it), it has to be poured into your mouth, which is a touch tricky with hot, frothy chai! I once accidentally touched one cup to my mouth and was thoroughly scolded!
Chai latte is also very good for us... Kai is healing!
Here are just some of the many benefits of drinking chai tea:
Rich in antioxidants

Boosts heart health

Improves digestion

Help with weight loss

Boosts immune system

Increases energy and alertness

Great for your skin

Reduces inflammation

Fights off colds and flu

Good for your teeth

Can sooth headache and cramps

Good for your brain and cognitive function

Can soothe nausea & stomach pain

Can ease muscle pain

Reduce blood sugar levels
Next time you sit down and relax with a delicious masala chai, you'll know it's also helping boost our health, yum!
Once you've tasted freshly ground chai spices, the tea bags or syrup just don't do it justice! So we like to make our own. It's very easy to do!
Try to source whole spices as much as possible and grind in a mortar and pestle, but if you can't, just use already ground spices. This recipe has a slight heat/spice to it, both my two girls are ok with the spice.

Chai Paste Recipe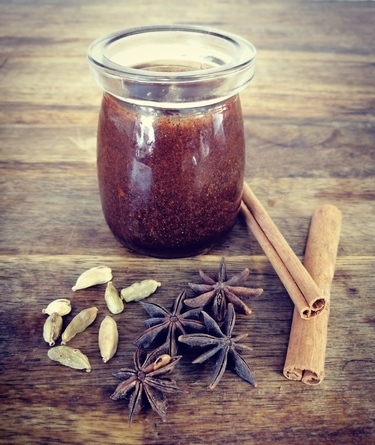 4 tspn ground ginger

2 tspn ground cinnamon

1 tspn ground cardamon (freshly ground cardamom is THE BEST)

1/4 tspn ground cloves

1/4 tspn ground nutmeg

1 star anise, ground

1/4 tspn black pepper, ground

1 tspn vanilla extract or 1/4 tspn vanilla powder

3 Tbspn maple/coconut/yacon syrup
Place all spices into a glass jar and stir to blend. Add maple syrup and stir into a thick paste.
Store in the fridge, ready to pull out for some chai latte deliciousness!
How to make a Chai Latte
Boil some water.
Use 1/2-1 tspn of chai paste per cup.
Pour about 1/4 cup of boiling water into a cup to infuse the spices.
Heat your milk in a pot or frother.
Strain your chai liquid into your cup (otherwise it's a bit tickly on the throat).
Top up with warmed milk.
Sweeten further to your taste.
Sprinkle with cinnamon sugar if you like!
And that's it, so easy to quickly make and so delicious! I store some paste in a small glass jar with a lid, so I can easily take it with me.
Enjoy! ♥