Chickweed Pesto
Chickweed is a nutritious plant that is high in vitamin C, vitamin B complex, iron, calcium, magnesium, and zinc.
For minerals, it has iron, calcium, potassium, phosphorus, zinc, manganese, sodium, copper, and silica. And if that's not enough, it also contains beta carotene and rutin, a flavonoid known to reduce LDL cholesterol.
I haven't even started on the taste! It reminds me of pea pods or fresh green beans. Chickweed also tends to lean towards earthy, but nuttier. If you haven't tried it, now is your chance!
This chickweed pesto is so good! It is very bright and green tasting, just like spring. It's perfect over pasta or on pizza, and it freezes well too for later use.
Medicinally Chickweed is a treasure chest of healing! It's helpful for:

skin inflammations - sores, cuts, rashes, boils, burns.

acne

eczema

psoriasis

constipation

irritated eyes

respiratory disorders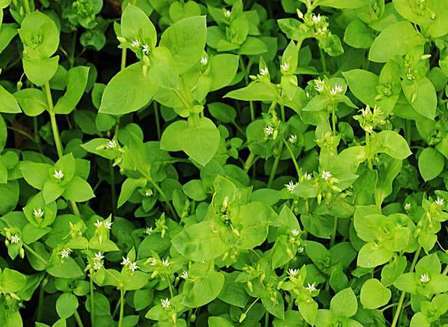 It is GREAT for itchy skin conditions, i.e. chickenpox, eczema, bites, acne etc. and it's high in antioxidants, B vitamins and Vit C, so was historically used to treat scurvy.

It can even improve the appearance of scars and wrinkles!

In some parts of Asia, women include chickweed in their diet to help regulate their menstrual cycle.
Chickweed is also a joint lubricator, so it's wonderful for arthritic or rheumatism conditions! (bath with fresh chickweed and take the fresh tea and tincture internally)
Chickweed Pesto Recipe:
1/2 cup cashews/walnuts/pine nuts

2-3 cloves of garlic

3 cups chickweed, well packed (we love the combo of 2 cups chickweed, 1 cup parsley)

1 Tbspn lemon juice

12 cup mild olive oil

1/2 tspn salt

1/4 tspn freshly ground black pepper

1/4 cup grated parmesan cheese
Method:
Place all ingredients into a food processor and process until smooth. If it's too thick, slowly drizzle in a bit more olive oil.
Keep refridgerated or freeze. Enjoy!

Happy chickweed foraging and pesto making!