Kawakawa (Macropiper excelsum) is known as the "Pharmacy of the Forest". The small bush, with distinctive heart shaped leaves, is a significant and sacred plant to Maori. It has been used traditionally to treat cuts, wounds, stomach and rheumatic pain, skin disorders, toothache, bruises & abrasions.
We use a natural, traditional method that extracts all the healing goodness of Kawakawa leaves without compromising its soothing and anti-inflammatory properties.

Among its many healing properties, it is reputed to soothe: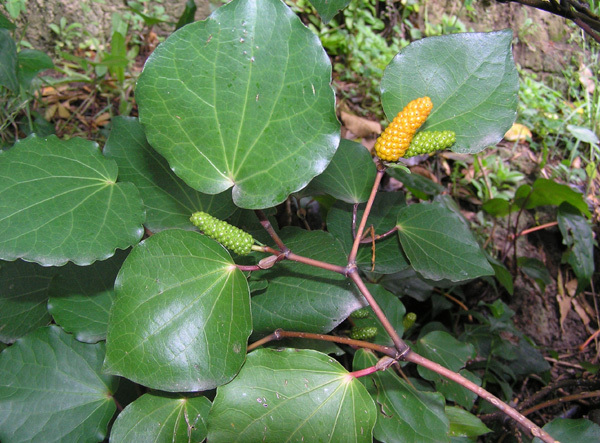 dry, irritated and eczema-prone skin


insect bites and stings

skin rashes

poor circulation

bruises

wounds & cuts

burns

aches and pains

cradle cap

Kawakawa's antimicrobial and analgesic properties make it useful for treating infections, and it is really helpful in reducing inflammation of various skin conditions such as psoriasis, eczema and rashes.

Smooth this oil onto your skin (after a shower or bath is best) to experience its healing effects, or use it as a base for your own skincare products - butters, soaps, shampoos, lotions and balms.
Sustainable Kawakawa Harvesting

We only ever harvest Kawakawa from healthy plants, on the sunny side of the bush after the dew has dried on the plant and before the heat of the day. We say a Karakia (prayer) on entering the grove and give thanks after harvesting, following Māori Rongoā techniques.

We harvest the leaves with the holes in them, as the little caterpillar that enjoys eating Kawakawa knows which leaves are the strongest, although science might now tell us that when the leaves are being eaten that they release more medicine into the leaf in an attempt to discourage the caterpillars.

And we only harvest "grandparent" leaves, the ones with the flare at their base and with "parent" and "child" leaves above them, so the bush can keep growing. If the parent or child leaves are picked, that stem cannot continue growing!